New Forest sponsored horse or bike ride
It's still not too late to make a donation!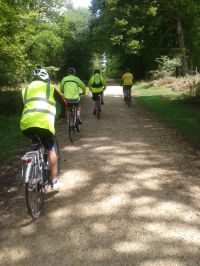 For the second consecutive year, Meon Valley Lions took part in the charity "Horse or Bike" ride, organised by the New Forest Rotary Club. The event attracted more than 300 entrants, including the four-man Lions bike team comprising Roy Cuthbertson, Dick Cowles, John (Duracell-bunny) Ormiston and Ian Adams. Starting at Burley, riders had a choice of mainly off-road routes through the New Forest, enjoying some of Britain's most beautiful countryside en-route. Beautiful weather and great organisation made for a highly enjoyable day, allowing the participants to raise a great deal of money for a variety of chosen charities. Meon Valley Lions once again supported The Rose Road Association based in Southampton.
Established in 1952, Rose Road works with over 400 children, young people and their families from across Hampshire and the surrounding counties. The young people who come to Rose Road have a range of disabilities including severe and profound learning difficulties, physical disabilities and autism. They're a really great bunch and the people who work for Rose Road do a fantastic job helping them to bring out their talents and realise their dreams and aspirations.
The group is funded entirely by charitable donations and it looks like our bike ride contributions should just surpass the £1,000 mark, which will go towards their future equipment needs and running costs.
Our Virgin MoneyJust-giving page is still open so if you would like to sponsor us please follow this link LINK to Lions sponsor page
Photos: (left) Action shot of our team over-taking a less fit participant!
(below) Delayed by a loss of pressure!
The team - Roy, Dick, John and Ian with Sue Harbottle of Rose Road Association