February 2014
Ever seen a Lion tweet?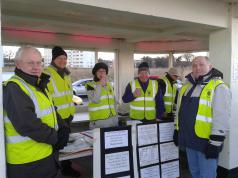 In January we once again supported the Ford Charity Open Sea Fishing Festival on Weston Shore, Southampton, managing the event set-up, marshalling and weigh-in. Despite the much-publicised closure of the Ford Transit plant, the Sea Angling section of the Sports and Social club is still very active, as it approaches its 40th year promoting this great fund-raising event.
Remarkably, given the atrocious weather we have seen in 2014, we were blessed with blue skies and relatively warm conditions on the day. In total we had 117 senior competitors and 11 juniors participating this year and through entry fees, a raffle and some rounding-up from our own funds, we now plan to make a £1,250 charity donation to the Naomi House/Jack's Place Hospice charity in Winchester.
The overall prize winner this year was Neil Wetherby from Southampton with a catch totaling 2lb 2oz. Second place was Ant Buik from Dorchester (1lb 6 ½ oz) and third was local fisherman Shaun Royal (1lb 5 ½ oz).
We will be formally presenting the cheque to representatives of Naomi House at the prize-giving ceremony in March, bringing the amount raised from this and previous years' involvement in the Fishing festival to around £37,000. It's a great result and our thanks go to the Ford Sea Angling section of the Sports and Social club, the Transport and General Workers Union and all the fishermen for their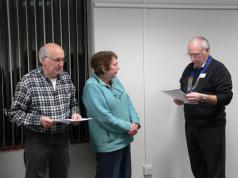 support.
Our February business meeting was extremely busy. Publicity Officer Ian Adams made a short presentation on social media and explained how our Twitter and Facebook accounts will be used in future to promote our fund-raising events and other activities. If you want to keep track of what we're doing each month on events like the Swanmore Carnival and Fete, please follow us on @meonvalleylion (Twitter) and become a "friend" of Meon Valley Lions Club on Facebook.
We had the pleasure of having First Vice-District Governor Mike Hendy as a guest at the business meeting and he took the opportunity to present a 20-year service chevron to Lion Chris Le Voi and a 15-year service chevron to Lion Andrew Brown. Mike provided an honest appraisal of the challenges facing Lions clubs globally and outlined some of his ideas for addressing them. With 3,500,000 members in 205 countries, it takes a lot of commitment, organisation and good communication to make things work. He reminded us that it's too easy to get wrapped up in the admin and fine detail when the focus clearly needs to be on our commitment to serving our local communities and fund-raising for worthy causes.
Also at the meeting, Hilary White was badged as a member of our Meon Valley Lions club. Sponsored by Lion Roy Cuthbertson, Hilary's induction brings our membership to a very healthy 27. Like many new members, Hilary has been visiting a few of our events and meetings as a guest to find out just how everything works, before committing to full membership. If you are interested in finding out what we're all about on a similar basis, you're more than welcome to join us. Call us on 01489 894932 for more information.
Pictures: (Top) The early crew take on coffee at the fishing festival; (Below) Hilary white becomes a member of Meon Valley Lions Club