January 2014
Money in... Money out!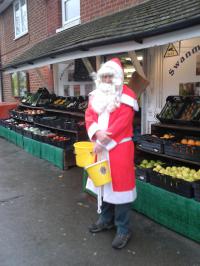 Meon Valley Lions benefited from a very successful few weeks of Christmas charity collections during December. Our volunteer collectors were out around the villages of the Meon Valley most evenings and Saturday mornings, supporting Father Christmas on his rounds. Despite a couple of cancellations caused by foul weather, we signed off 2013 with the grand total of £4,450 in various denominations including the usual additional mix of Euros, Dollars and miscellaneous shrapnel. The amount is slightly down on 2012, but it's still a great result considering we undertook two fewer collections this year as a result of the evenings lost to the weather. Well done to all the Lions who braved the elements and of course all the generous people of the Meon Valley who dug deep in their pockets.

What do Lions do with the money we raise in this way? Well, very simply we spend it on groups and individuals who really need a helping hand. We ploughed back around £15,000 into charities and good causes during 2012-13. 80% of that money is dedicated specifically to people in the Meon Valley and none of it is diverted to cover administrative or other costs. Here are a few examples of how we spend your cash:
Sue Nash contacted Meon Valley Lions Club about her daughter Sophie, who suffers from cerebral palsy, autism and epilepsy. Sophie is 23 years old and derives great enjoyment from being a member of the 'Cycles for All' project based in Eastleigh's Fleming Park, where they have a range of specially adapted bikes and trikes for members to use during their sessions. Sophie had the opportunity to ride a "Trailmate Joyrider" tricycle, and she loved it. After a time the project realised that that trike was only ever used by Sophie, as it suited her particular needs, so they offered to sell it to her at a second hand price. Sophie raised £200 with her own fundraising events and MVLC matched this, thus enabling Sophie to make the trike her own and for 'Cycles for All' to purchase another bike/trike that will suit other members. Sophie is now very much looking forward to using her trike when she goes to University.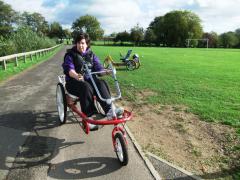 In December we provided a sell-out BBQ at the Bere Forest Bauble Hunt raising £1,000 for Naomi House, the Winchester based Hospice. Following a presentation last summer from The Rose Road Association charity, we have purchased video monitors for their organisation. The children who attend The Association have multiple and complex health needs and the units will be used as bed monitors for some of the more severely disadvantaged children.
We also made a donation of £300 to Home-Start Meon Valley, allowing the charity to purchase food hampers for the local families they are currently supporting just in time for Christmas. If you know of a person, family or community group who might benefit from our help and support please make contact with us via this website.
Finally, a mention for two local businesses who really helped us out recently. When our minibus' sliding door jammed on Christmas Eve it could have prevented us taking elderly people to their Christmas lunch the following day. Although officially closed, the mechanics at WJ Heard's Garage in Bishops Waltham, sourced the replacement part and fitted it in two hours flat. On another occasion our generator packed in, resulting in Santa's sleigh running without its colourful lights. Step in Fox's Garden Machinery of Bishops Waltham with a full generator service, putting us back in business for the following day. A big "Thank you!" to the staff of both organisations for your assistance at short notice.
Pictures: Top - Santa in Swanmore, Below - Sophie's Trailmate Joyrider!
Trailmate Joyrider!