July 2014
Music and rhythm at Swanmore fete
A fine day summer day saw a large turnout for this year's Swanmore Carnival and Fete. An estimated 1,500 people were treated to a delightful afternoon of music, dance, fun and entertainment on the New Road recreation ground. As well as around 50 commercial and charity stalls, folks also had the opportunity to splash some cash on the plate smashing, beat the goalie and coconut shy stalls.
The theme this year was "Nuts about Brazil" and the carnival parade got started around midday, led through the village by the energetic Big Noise Samba Band, beating out a medley of samba rhythms. The walking parade winners this year were the Scouts, Cubs and Beavers, with The Roynon School of Dance and Swanmore pre-school receiving "highly commended" awards.
At the fete, local band Contraband celebrated their 10th anniversary with a splendid gig of 70's, 80's and 90's musical covers, in complete musical contrast to the newly formed Soberton Strummers who breezed through the ukulele versions of several, classic songs. Thanks also go to the Birnie Boozle Band and the Swanmore College Jazz band for entertaining us so brilliantly in the tea and bar enclosure.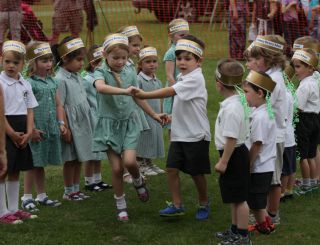 In the main arena a display of country dancing from the Greenery pre-school pupils (shepherded by Pauline Didymus) stole everyone's hearts. Appearing for the first time, Roynon School of Dance provided a brilliantly coordinated modern dance display, matched only by the volunteers who came forward for the Zumba display, organised by the Fitness team from the Meon Valley Marriott Hotel.
The sun also ensured a great turn out for the classic cars and motorbikes this year. The Meon Valley motorbike rally from the Rising Sun, Swanmore, to the Alresford Cricketers and back, attracted over 70 entries. Ken Brady and event organiser Heathcliffe Moss announced the winning bikes in each category while in the classic cars event organised by Lion Steve Newton, there were three winning vehicles:
Bob Tyler in his 1935 Riley Lynx was the "Best in Show" winner
Pete Harper in his 1964 Triumph TR4 was "Highly Commended"
Sam Evans in his 1972 Fortech custom Mini was the "Best in class Mini"
The whole splendid afternoon was rounded off with a finale from the fantastic Big Noise Samba Band. When gate receipts, advertising, food and drink sales and other revenue is counted, the Meon Valley Lions club expects to have raised in excess of £3,000 for our charity funds. Well done and thanks to everyone who helped made the day a success, especially the many local groups and volunteers who always step forward to help us out.
Photography courtesy of Brian Pancott
For lots more pictures and videos from the day, visit the Swanmore Carnival and Fete section of our events page.

Next year's event will be on Saturday 11th July 2015 - so put the date in your diary now!