March 2014
Snowdrops and Daffodils - it must be spring!
In February, Meon Valley Lions were pleased to support the "Snowdrops by candlelight" event at Hill Farm House, Swanmore, by providing a BBQ service for the visitors. An enchanting walk through a woodland glade, witnessing thousands of snowdrops lit by hundreds of candles, was a novel idea that enticed people away from the warmth of their lounge to the benefit of the Rowans Hospice and Ickle-Pickles charities. We served over 300 BBQ portions over two chilly evenings, helping the organisers to raise over £2,000 for the two charities.
Continuing the spring flower theme, we also helped Marie Curie Cancer Care with their Great Daffodil appeal in Bishop's Waltham in early March. If you saw us, you will recall those big, crazy, yellow hats we were wearing! We collected £566.43 on the day which was a great effort! Many thanks to all who helped and also to the kind and generous people of Bishop's Waltham for your donations!
Hundreds of families and local communities have been affected by the ongoing UK flooding crisis and Lions clubs across the UK have been coordinating support through those clubs based in the affected. If you would like to make a donation contact us via our contact us website page and we will make sure your money gets to our central Lions Clubs Disaster Fund where it will be put to best use. Of course, we're aware of major flooding problems in our own patch - such as in Hambledon. If Meon Valley Lions Club can provide local assistance, lending a hand with clean-up operations, or donating money for the elderly or those who can't afford insurance, please contact us.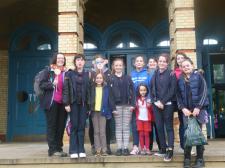 In February, Bishops Waltham Guides went to Alexandra Palace in London to celebrate Thinking Day, when they stop to think about girl guides and girl scouts all over the world. This year's theme was "education opens doors for all boys and girls" and one Rainbow, one Brownie, six Guides, one Young Leader and three Leaders went to this event in a minibus lent to them by the Meon Valley Lions. When they arrived at Alexandra Palace, there were thousands of Rainbows, Brownies and Guides queuing up to get in and several of the Guides lost their maps in the wind! Once inside, guides were put into small groups and went into the "Passport to Adventure" room where there was a range of activities including pyrography, henna painting, face painting, global masks, Bollywood dancing and a many other activities.
Following
another successful Fishing Festival this January, Meon Valley Lions were
delighted to attend the recent prize night of the Ford Sports and Social Club
Sea Angling Club, at their clubhouse in Southampton. The charity fishing
competition is now in its 39
th
year and it has become a tradition
that the monies raised from the event are donated to The Naomi House and jacksplace children's hospice charity in Winchester.
The Meon Valley Lions have been involved with the event organisation since 1996 and with the steadfast support of the Transport and General Workers Union, were able to generate a splendid £1,250 from this year's receipts and raffle.
That brings the rolling total to around £37,000 over the last 18 years - a great achievement.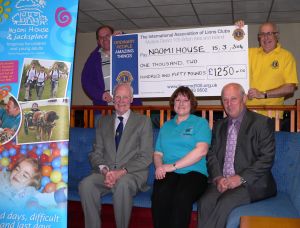 Images: Top, Snowdrops by candlelight; Middle,Guides at Ally Pally; Bottom, Cheque presentation to Naomi House