October 2014
Indian summer barbeque bonanza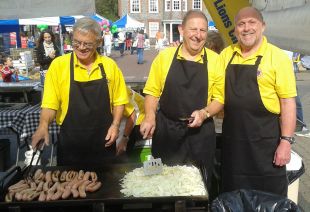 Wickham has been the focus of our charity fund-raising efforts in the last month or so, with our barbeques running red hot at both the Taste of Wickham Food Festival and the ever popular Wickham Charity Beer Festival. The Taste of Wickham Food Festival on Sunday 14 September benefited from the Indian summer weather, attracting around four thousand people to this inaugural event. The organisers had done a great job, filling the village square with numerous local suppliers of every conceivable type of food and drink, as well as musicians and rolling cookery demonstrations.
The Meon Valley Lions Club worked in partnership with Tull's the local Wickham butcher to put on a barbecue right outside the butcher's shop. We're pretty sure we broke a few records in terms of the quantity of food portions we served in such a short period. Between 11 am and 4 pm, no fewer than 700 burgers and sausages were dished up to the eager punters. That's a hot serving every 20-odd seconds! Wow! It was great work from a dedicated team who worked pretty much without a break from set up at 9 am through to break down at 4 pm.
Our final calculations concluded that we raised £1,400 for our charity account from the day's efforts. This doesn't take it to account a further £100 collected in our donation buckets. Well done also to Lion Gary Pothecary who spent a lot of the day shuttling visitors from the car park to the town centre in the Meon Valley Lions Club minibus, covering many miles in the process. Congratulations to Wickham for a well-organised and well-executed festival which we're sure will become a regular fixture in the local calendar. Please can we come back next year?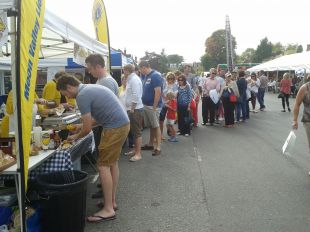 A few weeks after the food festival we were back for seconds! We attended the Wickham Charity Beer Festival, which now attracts over five hundred real ale punters to the bi-annual events each spring and autumn. The October beer festival was the 14th that organisers Dave, Mike and Ashley have put on. They deserve a lot of credit for a great job in not only creating a brilliant community event, but also raising heaps of cash for local causes and charities in the process. This year the beneficiaries included outdoor therapy charity "God Unlimited" and "Nothing's Impossible", Ashley Wilson's own fund raising charity. In April 2015 Ash and adventurer James Ketchell are going to attempt to row 3,600 miles across the Indian Ocean for charity. This would be a serious challenge for most people until you realise that Ash suffers from epilepsy, making the task even more daunting.
The two Lions' barbeques were busy all evening before we finally sold out just before last orders. It was our second best night for the beer festival in terms of food sales, raising over £700 for our charity fund. Our thanks go to our regular, local suppliers and sponsors at Westland's Farm Shop, McCarthy's Superstall and Tesco's Fareham for providing such great quality ingredients. In the last year we reckoned we've served around over 7cwt (355kg) of sausages and burgers helping us raise a pile of cash in the process and as usual, the compliments came thick and fast from the beer festival regulars.
Above: (top) Chefs in action - only 650 portions to go! (below) Queues round the block!
Look sharp - Peter Angelis in action!