September 2014
Lunch with the Lions!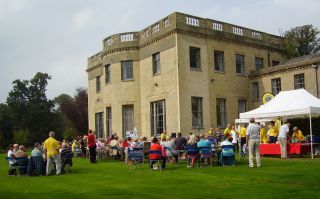 Meon Valley Lions Club recently hosted a highly successful Sunday lunchtime barbecue at Hill Place, Swanmore with over 50 guests in attendance. The "Meet the Lions" event was organised by the Lions to say a big thank you to their regular supporters and also to engage and socialise with some of the individuals and charities they have supported during the last twelve months.
The Lions were blessed with fine weather and grateful for the attendance of Guest of Honour, the Right Worshipful Mayor of Winchester, Councillor Eileen Berry, who kindly said a few words of support during the formal part of the proceedings.
Following a splendid lunch, Lion President John Wooldridge welcomed everyone and Lion Ian Adams took the opportunity to explain how the Meon Valley Lions Club operates, its role as a volunteer organisation and also describe the fund-raising programmes it runs for the benefit of the Meon Valley communities. Meon Valley Lions Club is part of a network of Lions Clubs internationally embracing over 1.35 million volunteers around the world. Although Lions Clubs operate in 209 countries and geographic areas, they all share a core belief that community is ultimately what people make of it.
The Meon Valley Lions club's 26 members come from all walks of life and share this common goal of supporting their local communities through volunteering and charitable work. All the money they raise through their barbeques, Christmas collections, fete stalls and other fund-raising activities, goes directly to the causes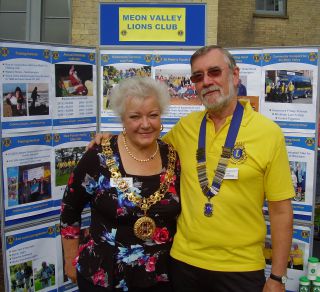 they chose to support, because all administrative costs are covered by club subscriptions. 80% of the money that is spent goes into local projects and causes in the Meon Valley. In the last year the Meon Valley Lions have spent over £17,000 on various initiatives encompassing health, well-being, poverty and youth programmes. The Lions have been able to support organisations such as Naomi House, Home Start, St Peter's Youth Club Bishops Waltham, Rose Road Association, Rowans Hospice, Wickham Community Centre, Scouts and Guides and numerous other groups and individuals within the area.
In addition the club's minibus service has provided a regular weekly transport service to organisations including Swanmore Friday club, Carers-together and Wickham lunch club, covering over 5,000 miles in the process and completing over 1,200 passenger journeys.

Many people do not not imagine that an area of relative wealth and affluence like the Meon Valley can have such cases of poverty, deprivation and hardship, but sadly it does. The challenge for the Lions is knowing exactly where the need occurs so that they can direct the appropriate resources. We therefore appeal to all the local groups, charities, organisations and individuals involved in this field to come forward with ideas and suggestions of how Meon Valley Lions Club can be more effective in providing funding and support.
The Meon Valley Lions would like to extend their thanks to all those who attended the "Meet the Lions" event and to Will and Rebecca Dobson of Hill Place for opening their wonderful House as a venue for the day.
Photos: (top) the BBQ in full swing at Hill Place. (below) the Right Worshipful Mayor of Winchester, Councillor Eileen Berry, with Lion President John Wooldridge